Creativity is one of the foundation pillars of Shiloh Creative Life Centre Charitable Trust. Through the ART Collective Project, the Trust aims to support local artists from diverse ethnic cultures to connect and take part in society through an innovative community project that promotes and showcasing their cultural skills and personal talents in a classroom setting while teaching participants the importance of their well-being through creative expression.
Shiloh trustees goals and objective is to collaborate with local people, artist, schools, universities, organizations, associations, businesses and creative individuals of all communities to offer the ART Collective Project within South Auckland that is innovative in offering creative art spaces that are welcoming and dedicated to creative therapies & art projects that promote freedom of personal artistic expression.
A variety of artists from diverse cultural backgrounds living in Auckland collaborate to teach a wide range of original and ethnic cultural practices that offer opportunities of self-development in one's individual art practice. Weekly art classes offered are watercolour, acrylic and oils, palette knife acrylics, human figure exploration, fibre print making and sewn textile fibre art.
The ART Collective Project begins its first 8-week art classes on Tuesday May 4 and ends Friday June 25, 2021 for adults 18+ with an art exhibition of the first eight-week classes collective art pieces on Saturday June 26, 2021, all taking place at the Nathan Homestead Manurewa.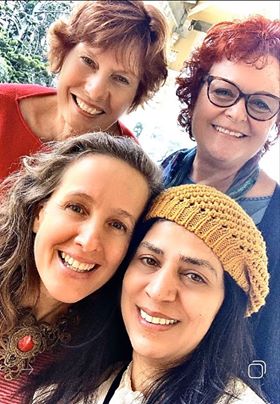 The local artists teaching our first eight-week classes are:
Watercolour Painting – Artist Linda Wills
Human Figure Exploration – Artist Nicky Hartley
Sewn Textile Fibre Art – Artist Dee Petit
Palette Knife on canvas – Artist Agnes Ishak
Our project consists of four, eight-week terms, for one year! Four artists will facilitate four consecutive weekly classes (one day per week. 3 hours per day) where people can learn the artist skills and techniques on how to draw, paint, print making and/or create with sewn fibre art. We will rotate the artists every four-weeks so each artist will be teaching both daytime and night-time classes. 32 art classes taught within this eight-week period.
Class Schedules: Tuesdays & Thursdays-6pm-9pm – Wednesdays & Fridays- 11am – 2pm Location: Nathan Homestead
For tickets visit our facebook page