We assist people to learn the 'why' we must change, and the motivation to do so!
Back 2 Basics is a 6-week program that is a face to face, interactive, educational experience facilitated by Naturopath Shirley Tuffery and Empowerment Life Coach Dee Petit who teach youth, women and men to understand the basics of our physiology and how the body systems all work together as a functioning whole (nothing exists in isolation). This foundational theory will be balanced out with the practical hands-on cooking experience, using seasonal fruits, vegetables and nutrient rich ingredients which will focus on experiencing how easy it can be to sustain healthy families by providing simple, nutritious, cost-effective meals.
The core aim of Back 2 Basics, is to demonstrate how we feel and function when in a state of wellbeing and how we can learn to take self-responsibility by being equipped with the tools to make better lifestyle choices. Thus, not only preventing illness, but achieving vibrant health, strength, and vitality.
Our goal is to provide educational and practical knowledge that is easy to implement, enabling participants to make healthy lifestyle choices to balance body and mind. Promoting a healthy lifestyle in the home and raising healthy children ensures positive happy attitudes that encourage all to actively contribute to our communities.
Summary

At the end of the course, the participants will understand the basics of the human body and its functions and the connection between physical and mental health. The meal preparations, using a variety of simple, tasty and cost-effective recipes, will encourage the participants to integrate and apply the learned knowledge and cooking skills into their daily lives using the practical skills and techniques taught during the six-week program.
The focus is on education, self-responsibility, empowerment, wellness, and prevention. We aim to provide basic knowledge that will form a solid foundation for future generations.
Duration of course: 6 weeks @ one day per week
Date: Wednesday's 6 Sept thru 11 Oct 2023
Time: 10:00am – 2:30pm
Location: Onehunga Community Hub – 83 Church Street, Onehunga Auckland
FREE Community Programme – 12 spaces available
To register your interest in attending this programme, please visit our Current Education Programs page and fill in the form at the bottom of the page. Dee Petit will send you the registration form once she receives the form with your email address. Thank you! https://shilohcentre.org.nz/education-programs/
Facilitators
Shirley Tuffery – Naturopath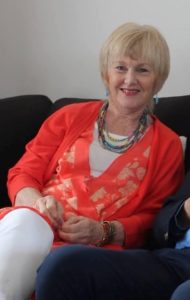 Shirley Tuffery has been dedicated to a path of self-discovery and Truth since the early 1970s when, having recently graduated with a Batchelor of Social Sciences Degree, majoring in Psychology, she landed in Canada where she experienced a 'spiritual awakening'. At this time, she was introduced to Astrology, vegetarianism and 'alternative' natural therapies which laid the foundation for her subsequent life's journey. Going on to qualify and practice as a Naturopath in the early 1980s, she combined her love of healthy living, self-development, education, and service with her Astrological counselling, helping others psychologically and spiritually, on their journey to self-understanding.
Through her years of further in-depth study, she has also served as a meditation teacher, and co-ordinator of her local spiritual group, and is more passionate than ever about helping people make some sense of their lives and find answers not only to the WHAT in their life, but to the WHY, in the deepest spiritual sense. Her current passion and focus include healthy lifestyle education and weight loss coaching, organic plant based nutritional supplement business, Naturopathic health care, spiritual meditation, and all things colourful and creative.
Dee Petit – Sassy Red Ltd – Director. Coach. Facilitator – www.sassyred.com
Dee's ancestors come from a French and German heritage and her grandfather, Augusta Petit, was a head chef at the Cadillac Hotel in Detroit Michigan in the early 1900's. He purchased 200 acres south of Detroit before leaving his job as head chef and developed the property into vegetable gardens and sold his produce at the Detroit markets during the depression. Gardening, cooking and preserving home grown nutrient rich food were instilled in Dee from an early age and she brings her passion for preserving the past into her classrooms.
Reflect. Reprogram. Regenerate
Testimonies:

"As I walked into this programme, I didn't know what to expect but was greeted by a bubbly and full of life Dee who sported a SMILE. BOOM from then on, I knew this was going to be a one hell of an experience. Sure enough she taught us how to make meals from scratch that would benefit us in the long run. I would always look forward to class every Monday, purely because I knew Dee would make something delicious to eat while giving us cooking tips. Preparing meals alongside her was never dull. There would be smiles all around as well as jokes and laughter, and not to forget the aroma of flavours that would fill the kitchen. Such an inspiring individual who is amazing in what she does as well as down to earth." – Helen
An excellent way to learn the basic ways of surviving and using basic ingredients and ideas to make simple food taste and look amazing. Everyone has been used to eating and thinking lazy, so this course was needed and useful to takeaway to be mindful with your input to the gut and body. Health is your biggest wealth. – Salamasina
Learning about the body itself was very interesting and I was introduced to some new ways of cooking and preparing food that is great for my body. Not to forget the yummy food that was cooked fully satisfied the tummy without feeling bloated. Enjoyed every moment! – Serena
The presentations educate and bring awareness to some of the everyday things I do and eat and are beneficial baby steps that I am willing to take towards a healthier lifestyle. I love how Dee is making the food and we are encouraged to interact with making our meals. Overall, I really enjoy the programme. – Jasmine
I'm so happy and grateful that I was able to join this programme again. I got to meet and make new friends. Thank you to Dee & Shirley for everything that Youse both have done for us ladies. This programme is amazing, it has benefit me in so many ways with my health and well being and also learning how to prepare and cook simple beautiful , delicious but affordable meals. I would highly recommend this course to my family & friends and to the wider community that will benefit from this. I've Enjoyed every class and I will definitely miss it heaps. – Natasha
Dee I just wanted to thank you and Shirley for providing a wonderfully welcoming space for women to come and learn about how their bodies work and the foods that provide nutritious sustenance for it. I love the simple tasty cost-effective recipes. You both have such lovely bright and warm personalities, I felt immediately welcomed and supported. I learnt a lot already about the digestive system and the liver which was of personal interest to me and the meals we've made are tasty and easy to make. I've even learned how to enjoy tofu and incorporate that into my diet. Something that I'd wrongly assumed was a boring bland protein! Even though I know some of the information noted, that I'd picked up from years of yoyo dieting, I've learned a lot of new information and it felt easier to absorb this info with making the food together as a group and eating together. Lovely memories. I hope your program becomes available to more women in more areas who need it, particularly with the cost of living rising, pressures on parents with children to work and provide them with wholesome lifestyles, your course is much needed. Cheers – Lina
The teacher Dee taught us how to make sauerkraut from the beginning from shredding cabbage to mixing salt and then how to put it in a bottle for fermentation. She gave everyone a bottle to take home and care for it by themselves. After three weeks, we discussed how each of our sauerkraut turned out and how we prepared it. I can make sauerkraut at home in the future, thank you Dee Petit. Shirley was a blessing! She educated us on how the body and organs work, and so much information regarding how to live a healthy lifestyle. Thanks Shirley! – Winney
I appreciate the Back 2 Basics 6-week Programme, it's widened the wage of my knowledge and let me trust that I can manage my health though the balanced lifestyle of diet and exercises. Food can be natural medicine or prison, depending on how and what one consumes. These classes gave me great benefits, and it's been a gorgeous gift for me. – Carrie
This programme has helped me to understand that making food from scratch is better for your whole body inside and out. – Rose-Anna
I have had a wonderful time learning from both Dee and Shirley. I have learnt a great deal about food and body care and how they work together to stay healthy. I recommend this course to everyone who wants to live better within themselves. – Leisha
Dee & Shirley's Back 2 Basics Program was very valuable and empowering. They gave me lifelong learning skills and awareness on health and body. The classes were great! Everyone supported each other and have fun doing so. The encouragement I received from both women were amazing!! And the recipes were delicious! – Luana
I feel I have improved my knowledge about health by 70-80% through the Back 2 Basics Programme and will continue to work on leading a healthier lifestyle and encouraging others to do the same. Dee & Shirley are truly inspiring and knowledgeable women who care for others well-being. – Annie